7 Reasons to Buy a Condo at Woodlake Towers
You've done your homework and decided that buying a condo in the Washington area makes a lot of sense. You want close-in living but at an affordable price. You're not crazy about taking care of a lawn or keeping up a house, so a condo is the perfect choice. Plus, you want to be near shopping, restaurants, recreation, good schools and public transportation.
We applaud your research and the fact that you've put Falls Church on your list of top places to live. Now let us help you narrow your choices by offering these seven reasons for picking Woodlake Towers Condominium as your new home!
Convenience. Woodlake Towers is conveniently located in the Seven Corners area of Falls Church, just a few miles from downtown Washington and easily accessible to Bailey's Crossroads and Skyline. You'll love the fact that Woodlake Towers is so close to D.C. and all that the greater Washington area has to offer. Find out the many benefits of living here on our Location page.
Low condo fees. Our association fees are lower than comparable properties in Falls Church. Woodlake Towers is financially sound and extremely well managed. In fact, we were honored in 2011 as the Large Community Association of the Year by the Community Associations Institute, Washington Metro Chapter. Our condo fees have not gone up since 2009, and we project enough reserves to meet our needs for the next 30 years!
HOA dues cover everything! One of the benefits of condo living you'll enjoy right away is that everything is included in your monthly condo fee. No more separate water, gas, or electric bills. Our fees include maintenance on the buildings, trash pickup, use of our two pools, three fitness rooms, and two tennis courts, not to mention our gorgeous outdoor areas, including our gazebos and barbecue grills!
Grounds and buildings are superbly maintained. Our community is set on a beautiful, 27-acre campus with mature trees, impeccably manicured lawns, and well-cultivated gardens. Our professionally managed community has an attentive staff, working 24 hours a day to care for your needs and keep our buildings and grounds in perfect order. We've spent millions on upgrades since 2009, including updating our balconies, windows, and carpeting, as well as energy-efficiency improvements to our heating and cooling systems.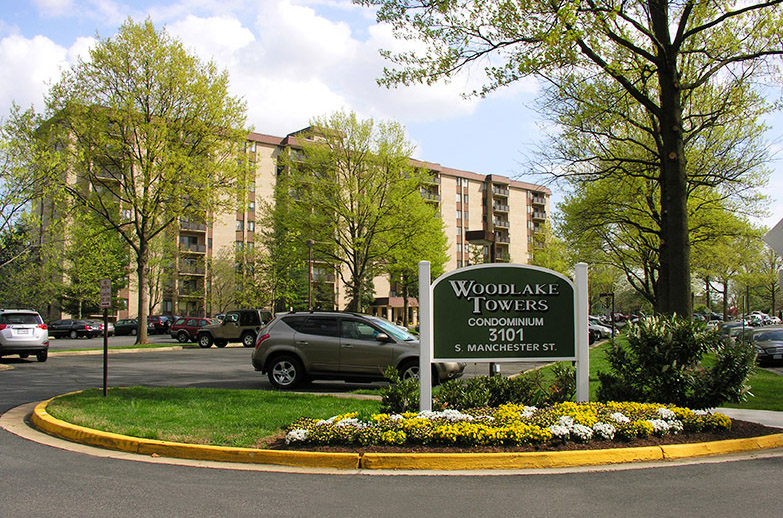 Amenities galore. As we like to say, Woodlake Towers has everything you need in a modern condo community! Large units with plenty of closet space, spacious floor plans, plenty of parking, spectacular views, and access to our pools, tennis courts, and fitness rooms—to name just a few. Check out our Amenities page to find out more.
Lower insurance costs and property taxes. If you haven't already considered these reasons for buying a condo, then you need to add them to your list: Condos have lower property taxes and insurance costs than a house. You don't need to insure the outer structure because we take care of that. And since real estate taxes are based on the assessed value of your unit, your taxes will be lower than a single-family detached home located in our area.
Community spirit! We've got plenty of community spirit and events at Woodlake Towers. That's what sets us apart from other condo communities. Our Memorial Day cookout, summer picnic, jazz night, Thursday Night Bridge, investment club, and New Year's Eve party are just a few of the many activities you'll want to check out.
Woodlake Towers Condominium At a Glance 
All brick construction
2 swimming pools, 3 fitness rooms, and 2 tennis courts
824 residential units, ranging in size from 464 sq. ft. efficiencies to 1,954 sq. ft. penthouses
5 commercial units: currently including a convenience store and a real estate company
Total population: 2,000 residents
24-hour on-premise management
27 acres of grounds, gardens and outdoor living areas, including gazebos, picnic tables and grills
Located in the convenient, close-in Seven Corners area of Falls Church