Amenities
Everything you expect in a modern condo community!
Woodlake Towers has amenities to meet the most exacting needs—three fitness rooms loaded with the latest, well-maintained exercise equipment, sauna rooms, two swimming pools, two tennis courts, guest rooms, ample picnic areas, bike rooms, and storage space—to name just a few.
You'll enjoy the fact that Woodlake Towers was built at a time when large apartments and lots of closet space were the norm. Woodlake Towers has 26 spacious floor plans, so chances are you'll find what you want—whether it's an expansive penthouse or a spacious corporate studio. With spectacular views from your balcony, closet space galore, reliable and comfortable central air conditioning and heating, an attentive 24-hour staff, and ample parking, you'll have everything you need to enjoy life!
You'll also appreciate the extra amenities provided by our on-premise establishments, including a convenience store, dry cleaners, dentist's office, and beauty shop.
Do you work at home or telecommute? We have three conference rooms, plus fax and copy service in the office.
Do you like the outdoors? Our three buildings are surrounded by 27 acres of lush landscaping—well-manicured lawns, mature trees, and beautiful gardens. Kick back with your friends in one of our gazebos, complete with picnic tables and outdoor barbecues.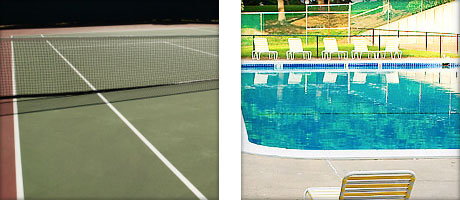 Family or friends show up unexpectedly? No problem! Woodlake Towers has convenient, clean guest rooms to make that visit easy and even more enjoyable.
And to meet your entertainment needs, we have three party rooms that can accommodate 10 to 90 guests.
With all these conveniences and amenities, Woodlake Towers Condominium is a great place to live!